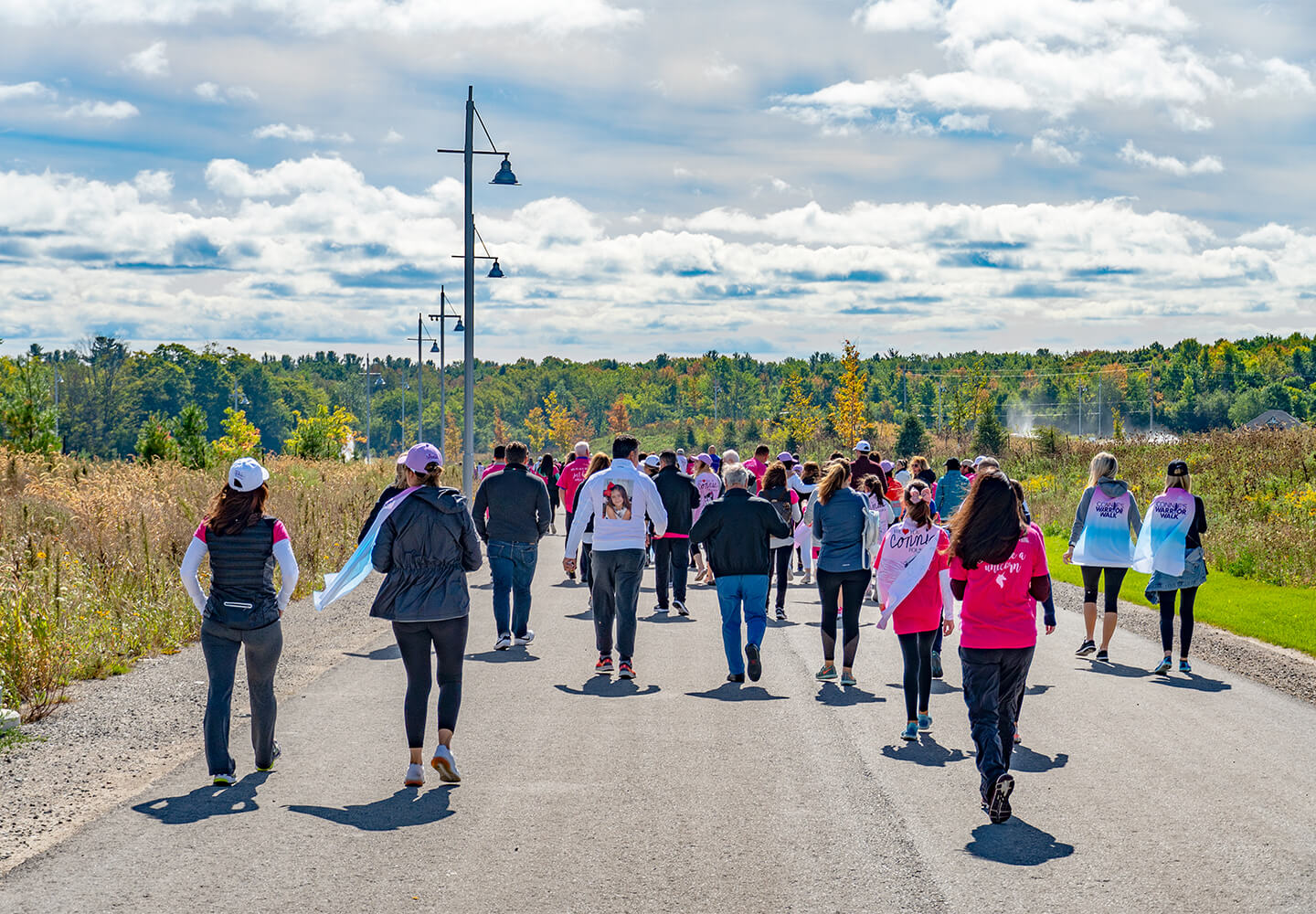 Giving Back
Rosehaven Homes and its communities are involved in a variety of charities.
Acting as sponsors and taking part in fundraisers involved in and around the communities of Rosehaven Homes is just one of the many ways we give back.
Rosehaven is committed to giving back through major donations and fundraising for many worthy causes such as Princess Margaret Cancer Centre, SickKids Hospital, the New Oakville Hospital, St. Joseph's Hospital Hamilton, Villa Colombo, Halton's Women's Shelter, Nasri Functional Medicine Clinic, Healthy Fam, Big Bike Heart & Stroke Foundation, Kerr St. Ministries, Burlington Carpentry Hospice among others.
The We Love You Connie Foundation is a fundraising effort dedicated to raising money to find a cure for DIPG. After losing their daughter, Connie Monica Guglietti to DIPG in October 2016, Marco and Michela Guglietti began the foundation along with Marco's brothers, Silvio, Riccardo and Johnny Guglietti. The Guglietti Family, together with the many generous supporters of the We Love You Connie Foundation, are extremely proud to announce that $3,650,000 has already been donated to specific neuro-oncology programs in the world's leading hospitals; for improving care, supporting most promising research trials, and future CURE of children's brain cancers, namely DIPG. $1M committed to the Sick Kids Hospital in Toronto ($1M sent as of January 14th, 2021), and $1.2M to the Montreal Children's Hospital ($1.2M sent as of January 11th, 2021), and $400K to Princess Margaret Cancer Centre ($400,000 sent as of January 14th, 2021), and $500,000 to DIPG Centre of Expertise (DCez), $300,000 to Dana-Farber Cancer Centre ($100,00 USD + $200,000 CAD as of January 11th, 2021), $100,000 USD to Nicklaus Children's Hospital, Miami, $100,000 CAD to Boston Children's Hospital, and 43,000 Euros to IOZK [Immun-Onkologisches Zentrum Köln] in Köln, Germany.
On September 12th, 2014 Rosehaven Homes and Melrose Investments donated / raised $6,080 for the Big Brothers Big Sisters of Halton. The funds will be applied to the Adventure Canada Club Program, which is a unique mentoring program for new comer youth to Canada.
Rosehaven is also making a difference through a fundraising program for Habitat for Humanity, helping low-income families to move into their own home. Thanks to our homeowners, Rosehaven has been able to donate thousands of dollars over the years to this important cause.
Pictured from Left to Right: Silvio Guglietti Melrose Investments, Connie Guglietti & Marco Guglietti, Rosehaven Homes & Barbara Ferrone, from Big Brothers Big Sisters
Rosehaven Homes donated $5000 to Steps to Recovery, an organization that provides support for those recovering from addictions to drugs and alcohol. With the goal of creating a safe and understanding community environment that facilitates long-term success, Steps to Recovery is made up of an empathetic group of committed individuals who aim to support others through vulnerable times.
Rosehaven Homes is pleased to be associated with HealthyFam, a not-for-profit organization that promotes the benefits of healthy eating by providing experiential learning programs that equip individuals with the wisdom to make intelligent choices on what and how to eat. These programs offer exciting, educational, and inspirational events for children and those committed to their health and happiness.
Rosehaven donated $20,000 to HealthyFam in order to show their support of this important mission. Eating well doesn't have to be a chore - it can be an enlightening experience!
Visit http://www.healthyfam.ca/ for more information.
Rosehaven also continues its fundraising efforts for the Princess Margaret Hospital. Since the Guglietti's donation of 1 million dollars in 2004 in honour of Concetta Guglietti, Rosehaven has been entering large teams in the annual Enbridge Ride to Conquer Cancer and the 5K Your Way walk.
Rosehaven participates annually in the Oakville Santa Claus Parade, donating any proceeds to the Kerr St. Ministries in aid of the most vulnerable members of the Oakville community. Since 2007, they've been co-organizing their own fundraiser, the annual Most Wanted Fashion Show. Proceeds from this extremely popular event go towards important cancer research being carried on at The Princess Margaret.
A recent $250,000 donation was gifted also to the new Oakville Hospital Foundation.