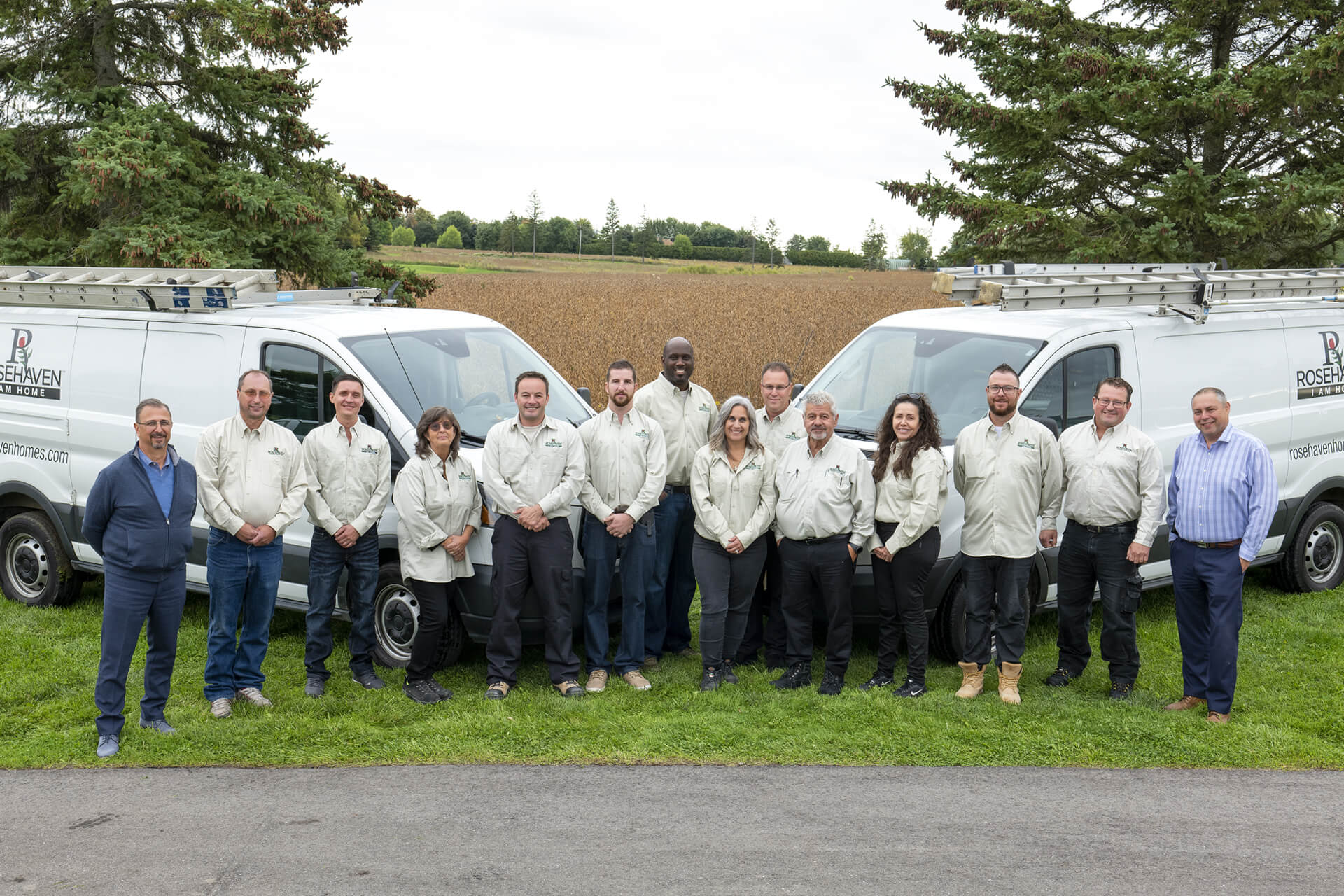 Our Customer Care is the Best in the Business.
We are 100% committed to serving our home buyers with unparalleled professionalism, integrity and care. We know how important customer service is - both before our home buyers move into their new home and after. Our service team is comprised of people who truly care. We aren't finished your home until you are completely satisfied. It's as simple as that.
Fill out the form by clicking "Get in Touch" and a Customer Service Representative will be in touch with you.
Warranty Coverage
Rosehaven Homes has been committed to providing excellent service under the guidelines of the new home warranty and protection program since 1992. For more information visit www.hcraontario.ca
Manage Your Warranty Online with Tarion:
Your new Rosehaven home is backed by Tarion. Register for Tarion's MyHome (myhome.tarion.com) right after you take possession. MyHome is an online tool you can use from your computer or mobile device that allows you to submit warranty claims and upload supporting documents directly to your builder and Tarion. It also alerts you to important dates and warranty timelines, allows you to receive official correspondence from Tarion electronically, and schedule an inspection with Tarion when you need assistance.
• Manage all of your warranty information in one place.
• Submit personalized warranty forms online.
• Receive e-mail alerts for important warranty deadlines.
• Receive e-correspondence instead of paper.
Frequently Asked Questions
Construction and Scheduled Closing Date
At Rosehaven Homes, we review the construction progress of your new home on a regular basis but there are many critical periods that we look to meet and if these dates are not met, then your closing date may require adjustment. Three of these critical dates are:
Roof:
One hundred and fifty (150) days prior to your scheduled closing date, your home should have all the plywood on the roof. If this has occurred, your home is on schedule. However, if this date is missed by more than a week, we may adjust your closing date.
Insulation:
One hundred and twenty (120) days prior to your scheduled closing date, your home should be bricked and/or interior of the home insulated. If this has occurred, your home is on schedule. However, if this date is missed by more than a week, we may adjust your closing date.
Trim & Paint:
One hundred (100) days prior to your scheduled (or extended) closing date, your home should be completely drywalled with the drywall painted with primer. Again, if this date is missed by more than a week, we may be adjusting your closing date.
Frame Walk-Through for Freehold Homes
This appointment arranged by the Head Office Construction Administrator is your opportunity to walk through the home prior to insulation of the house when the heating, electrical and plumbing have been completed. We offer this to you so you can get a feel for your homes layout and also to see any structural changes that you may have requested incorporated into your home. However, this is not an opportunity to add or remove items to the home. Once the appointment is set, on the day of the appointment those who are on the Agreement of Purchase and Sale only are permitted to attend the Walk-Through with our Site Supervisor (no children, friends or family members are permitted). We will provide you with a hard hat that must be worn at all times, and we request that you wear CSA-approved footwear, or footwear that covers your entire foot. You will also be required to sign a wavier prior to commencing the Walk-Through. The Frame Walk-Through takes about one hour.
Pre-Delivery Inspection (PDI)
You will receive an email from our Head Office Service Department approximately six (6) to ten (10) weeks before your closing date, which outlines items to address at the time of your pre-delivery inspection, along with the scheduled date and time for your pre-delivery inspection and the Tarion "Homeowners Information Package." At the time of your pre-delivery inspection you will receive the Rosehaven Homeowner Information Manual. We strongly recommend that you read through both of these booklets as they set out our service policies along with your responsibilities for notification of required service. It also provides you with answers to many common questions, including how to maintain your new Rosehaven home. During the pre-delivery inspection we will arrange a time to meet with you on your closing date in order to review the status of your PDI repairs.
On Closing
On the date of your scheduled closing, once the Head Office has been informed by our lawyers that the house has closed successfully, we inform the construction office that they may release your keys. You are to pick up your keys at the construction office during business hours. At the time you collect your keys you will be required to sign a verification form indicating that you collected your keys for the front door and the garage door and the number of keys that were provided. As well, you will conduct your PDI Confirmation Appointment with our Service Co-ordinator where you will be required to sign off on all completed items reported on your Pre-Delivery Inspection.
*Note: the above provided information pertains to low rise construction only and for developments that do not fall under the "condominium" category.