City of Light elegance arrives in upscale Oakville
March 28, 2016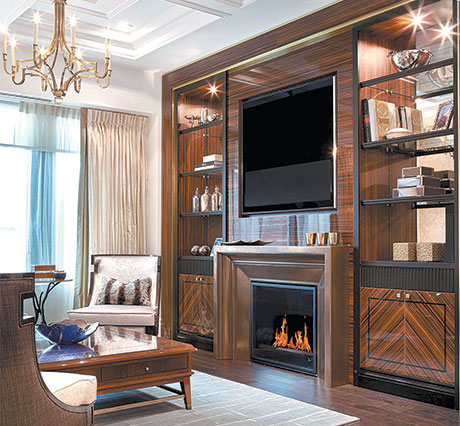 March 2016 | theglobeandmail.com
Boutique condominium reflects classic Beaux Arts architecture
Oakville has long been touted as the swankiest suburb born out of the GTA, and at the corner of Randall Street and Trafalgar Road lies the proof: the Randall Residences, an award-winning boutique property of 36 luxe suites inspired by the timeless beauty of Paris.
Bringing classic Beaux Arts architecture to life – neoclassical style heavily influenced by Roman architecture, Italian Renaissance and French Baroque – the condominium, designed by architect Richard Wengle, captures the refined romance of the City of Light in the belle époque period with its commitment to symmetry, balance and tradition.
"It was important to set a new standard for architectural design in Oakville while also offering something different," says Heather Weeks, marketing manager for the Randall Residences. She notes that there isn't much classical design nowadays compared to more contemporary styles, so the Randall fills a void. "It has a lot of articulation on the façade to give the building depth – formal colonnades and projecting cornices – all aimed to add that extra sparkle and make homeowners feel like they're away on vacation at one of those storied, European five-star hotels."
Opulence can be found in the Randall's palatial interiors: grand rotunda foyers, custom-built cabinetry, bronzed fireplaces, marble flooring and 10-foot ceilings. But it is the attention to detail in the landscaping design that sets this property apart. Influenced by classic French parterre design, the exterior offers drama with a grand double-door entry, immaculate landscaping with surrounding trees on floor-level planters and large coach lamp lighting at the entrance.
Generous pedestrian promenades and cozy roadways are a nod to the streets of Paris while evergreen shrubs, like yew and boxwood, provide clean lines and capture the essence of the four seasons. Lead landscape architect Robert Ng of NAK Design Strategies sought this spirit of design to combine creature comforts with posh elegance.
"We have created a pedestrian realm at ground level defined by sophisticated lines of black-and-grey granite," says Mr. Ng, "that will allow people to stroll, stop and linger as well as provide adequate room for great street trees to mature."
The verticality of the Randall is emphasized by a row of columnar beech trees, which provides structure and year-round aesthetic appeal as its leaves remain on the branches throughout the winter months.
"The Beaux Arts style is very much about crafted details and sculptural shapes," says Mr. Ng, "in the same way we used plants in the landscape that can be neatly manicured and integrated with the existing architecture. Similar to the building palette, we have also restrained the use of colour to a subtle hue of black, grey and rich green."
Unique to the Randall Residences is the generous outdoor space of its common rooftop terrace: 2,600 square feet including a large water feature, a welcoming pavilion, plus umbrellas and a shaded communal table perfect for relaxation, socializing or a special event. The barbecue area proffers multiple grills on a stone countertop with two sinks and two refrigerators perfect for summer entertaining.
The nearby 10 penthouse suites, which bear such regal names as the Chisholm and the Cantley, boast their own private rooftop terraces with direct suite access, shade pavilions, tempered glass privacy screens and landscaped black metal planters and granite paving stones. These touches offer comfort and help frame views of Oakville and the lake.
"Every builder is quick to say 'luxury' when describing their property," says Ms. Weeks. "The hardest part is to actually rely on it in a way that's unparalleled in the market. What we're doing with Randall Residences has not been done before – and that's not just a line. This is a new level of luxury."