A Residence of Remarkable Stature in Downtown Oakville
February 10, 2016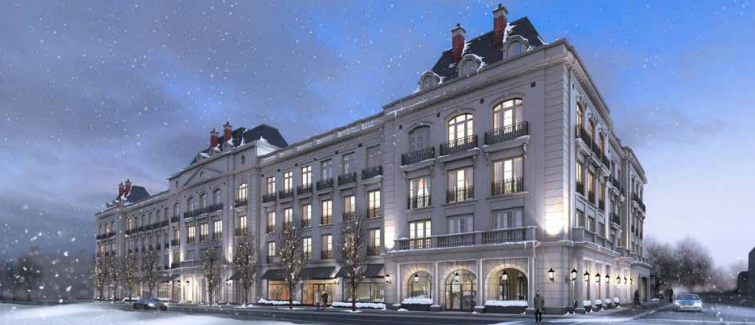 Feb 2016 | Globe and Mail
Construction has reached the roof of The Randall Residences at 300 Randall Street. With just 36 suites, this seven-time award-winning residence, steps from downtown Oakville and the waterfront, is 70 percent sold. Only 10 superb residences remain, ranging from 1,800 to 2,900 square-feet, starting at $2 million. Penthouse lovers should ask about the exquisite Barton penthouse, available from $2.2 million.
The Randall Residences, inspired by the timeless elegance of Paris, brings classic Beaux Arts architecture to a picture-perfect setting. This landmark condominium, designed by architect Richard Wengle, captures the romance of Paris in the Belle Époque, with its understated grandeur, graceful proportions, classic symmetry and the finest of materials.
The Randall offers the type of luxury Oakville has never seen except, perhaps, on a five-star holiday. Everything about these gracious and spacious suites exhibits the award-winning builder's passion for quality and excellence. Opulent appointments include grand rotunda foyers, custom furniture-finished cabinetry, bronzed fireplaces, marble flooring with custom inlays, and exclusive name-brand appliances and fixtures.
Each suite at The Randall Residences is designed to feel as large and as spacious as the experience of living in a large home. Interiors are designed by Ferris Rafauli with an eye toward unrestrained opulence. Each suite is overtly elegant with wide gallery hallways, superb sightlines, soaring ceilings, rich millwork, Juliette terraces and gracefully proportioned principle rooms.
Roof Top Terrace, spanning more than 2,600 square feet, designed for relaxation, socializing or special events. A dramatic water feature and a welcoming shaded pavilion communal table grace the terrace, complete with sitting furniture, umbrellas, landscaped black metal planters, precast stone railing and granite paving stones. The barbecue area offers striking design with three multiple grills in a concrete countertop with two sinks and two refrigerators.
Only three opulent penthouse suites of up to 2,713 square feet remain, with two designs, The Chisholm and The Cantley, featuring a private rooftop terrace and sun lounge.
Luxury living meets elegant dining at Sotto Sotto Ristorante, Opening 2017 at The Randall Residences. It is undoubtedly destined to become Oakville's premier restaurant. Within walking distance are elegant and casual restaurants, cafés, unique shops, the Centre for the Performing Arts and the Oakville Yacht Club.
Ownership at The Randall also opens important doors: membership in the Quintessentially Lifestyle luxury concierge services club is complimentary, as is a three-month trial membership to the prestigious Oakville Club. Hotel-style concierge services will be provided by the Forest Hill Group.
Oakville's most sought-after luxury address will be completed by 2017. To be among the fortunate few to own here, visit the conceptual model suite soon to choose from the remaining suites, and begin your grand Randall lifestyle. Open Mondays to Wednesdays and Saturdays from 1 p.m. to 5 p.m., with other days by appointment.
To book your private viewing, call (905) 849-1033 or e-mail [email protected]. The model suite is located at 145 Reynolds St., Suite 201, Oakville, ON. For more information, visit TheRandallResidences.com.