Bathroom Maintenance - Tips and Tricks
June 18, 2020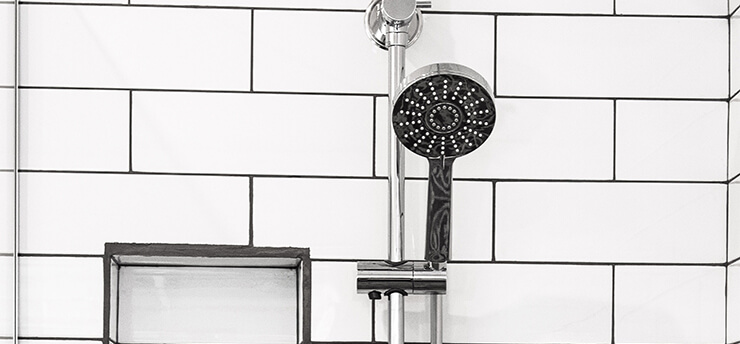 Sanitization and cleanliness are currently on the forefront of everyone's minds. One thing that has become abundantly clear as we focus on disinfecting and cleaning our spaces, is that of all of the areas in the home, our bathrooms undoubtedly require the most time and attention when it comes to keeping them clean.
It can be hard to keep track of the best ways to ensure that our bathrooms are clean and free of germs, which is why we have put together a list of tips and tricks for keeping your bathroom in the best possible shape.
Flush out the drains
Between soap scum, lotions, and other residues from the products we use daily, the drains in our sinks and showers can get clogged and backed up much faster than we might think. Not only can this result in drainage issues, but sometimes can cause an unpleasant smell if left untreated. That is why it is important to flush out your drains regularly. Mix half a cup of baking soda with water to form a thick paste and pour it down the drain. Let the mixture sit overnight and the next morning, pour half a cup of vinegar and let it react with the paste. Let it sit for about 15 minutes, and then flush out the mixture with hot water. This will keep your drains in tip-top shape and avoid drainage issues without damaging the drains.
Soak the showerhead
Thanks to the damp environment, our showerheads can quickly become a breeding ground for bacteria. If not cleaned regularly, we can become subject to these bacteria as well, breathing it in from the steam during a hot shower. To keep this from happening, fill a plastic bag with white vinegar and tie it around the showerhead so that the showerhead and nozzle are entirely submerged in the vinegar. Leave it overnight and run the water in the morning to give it a good rinse. This will not only help clear any potentially harmful germs, but it will also keep your showerhead in optimal shape to maintain good water pressure.
Give the shower curtains a good wash
If you have plastic shower curtains, it is also a good idea to run them through the wash cycle. Like showerheads, shower curtains are left in a warm, damp environment for lengthy periods of time which can cause them to accumulate bacteria. Not only that, but shampoo, conditioner and soap can start to build up on the shower curtains as well. The process is simple - just throw your shower curtains in the washing machine with your regular detergent and a couple of towels. The towels will help to scrub away residue, and the curtains can simply be hung back up to dry once finished.
Clean the most touched things more regularly
There are several things in our bathrooms that we don't even realize can become a hot spot for bacteria such as light switches, toilet paper holders, hand towels, towel bars, faucets, cupboard handles and more. Next time you step into your bathroom, make a checklist of the things you touch unavoidably, and make sure to wipe them down with an antibacterial wipe at least once or twice a week and replace the hand towel every 3-4 days.
Clean the vents and fans
Fans and vents are important in a bathroom, as they keep mold and mildew from developing. To make sure they stay in the best working order, first flip the circuit breaker to avoid any accidents. Remove the vent covers and let them soak in warm water and mild soap, and then rinse and dry them well. Using the vacuum, remove as much dust and debris as possible before going in with a soft, damp cloth or paintbrush to get dust out of the hard to reach areas. Use a soft, dry cloth to dry everything before replacing the covers.
Disinfecting and cleaning the toilet
It goes without saying that when it comes to bathroom cleanliness, the toilet cannot be overlooked. There are a number of ways to make sure the toilet stays clean. Antacid tablets, mouthwash and vinegar are all things that, in combination with a good scrubbing using a clean toilet brush, will help keep your toilet sparkling and clean.
Rosehaven Homes is proud to provide our valued customers with stunning designs, luxurious finishes and high-quality features in every home and condo we build. For over 25 years, we have built low-rise and high-rise communities all over the GTA, with each one showcasing the time and dedication that goes into every Rosehaven home. Register here to receive the most up-to-date information concerning Rosehaven Homes, our new home communities and the measures we are taking to keep our community safe and healthy.