Family Bonding Over the Holidays
December 07, 2020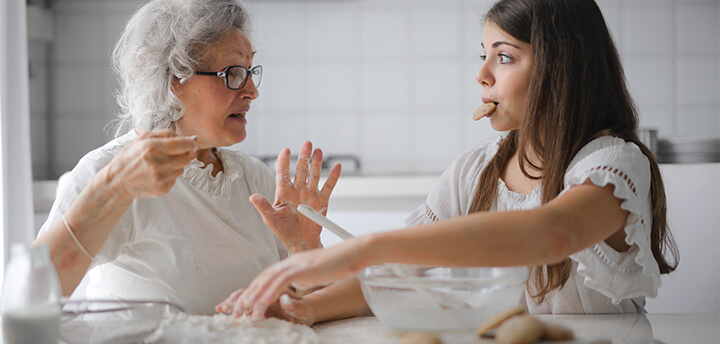 COVID is going to force us to spend our holidays with those closest to us; here's how to make it special
By this point most of us have settled into new routines. Working from home, virtual schooling, and the like. You've probably settled into your new normal, even we're all eager to get back to the old normal.
But holidays aren't supposed to be normal—they're supposed to be special. With the latest public health guidance warning us against gathering in large groups, including friends and extended family, it's likely we'll be celebrating this year with the people we've seen a lot of (read: too much of) during the last nine months.
If our holiday gatherings are going to be restricted to our households, here are a few suggestions to make this holiday season as special as it should be.
Play together
A little competition is a welcome distraction these days. For a low-tech option, minute-to-win-it games can be put together with a few common household objects, and come in enough variations to keep you busy through the holidays and then some. Play with as few as two people, or in teams. Then you can make it interesting. Keep a running score, co-ordinate tournaments, create a prize, and get your friends or extended family involved virtually.
Take an interest
We know you're probably not that interested in learning about Fortnite or whatever your daughter is doing on TikTok. But trying to find common ground can go a long way. It gives you something to talk about, and it might begin to mitigate every teenager's perception of their parents as a fun sponge.
Obviously these efforts won't always be welcome, but it's more likely to be welcomed than "put it away." If your son or daughter is into video games, ask if there's a game you can play together or suggest one yourself. If they're following some new social media controversy, ask about it. This also lays the groundwork for them to return the favour. If you're cooking something special, or working on a home improvement project, they may take an interest.
The family club
It's unlikely that everyone you live with shares similar interests, but thanks to companies like Netflix and Amazon, popular things have become ubiquitous. Consider books, movies and TV shows that you and your kids, parents, or spouse can read, watch and talk about. Or consider a new hobby. You may have what it takes to be the world's greatest woodworker or magician, and you've never even tried. Be open and interested in other hobbies your family members discuss.
Another option is to create an activity bowl. Each person writes an activity of their choosing on a slip of paper. Then, on a regular basis, you draw from the bowl and the whole family participates. It adds an element of surprise and saves you from arguing over what to do.
Talk to one another
This is a good time to have conversations you wouldn't normally. A vision board— where you put your hopes, dreams, and goals in writing—can help you keep track of what you talked about and serve as a time capsule you can later revisit. If you're struggling for topics, there are plenty of conversation aides online.
Failing that, this is also a great opportunity to bond over shared memories and revisit old photo albums and home videos.
Don't force it
The holidays are going to be really difficult for some of us this year. If your best efforts to get your family involved in these activities are falling flat, give them the space they need and make it easy for them to come back when they're ready.
For over 25 years, Rosehaven Homes has brought our passion, attention and creativity to the communities we've built all over the GTA, and we've made a commitment to the health of new homeowners and our staff during this difficult time. Register to find out more about our upcoming communities and the measures we are taking to keep staff and new homeowners safe.
Don't forget to follow us on Instagram, Twitter, and Facebook!