Mount Pleasant Townhomes in Brampton
August 24, 2017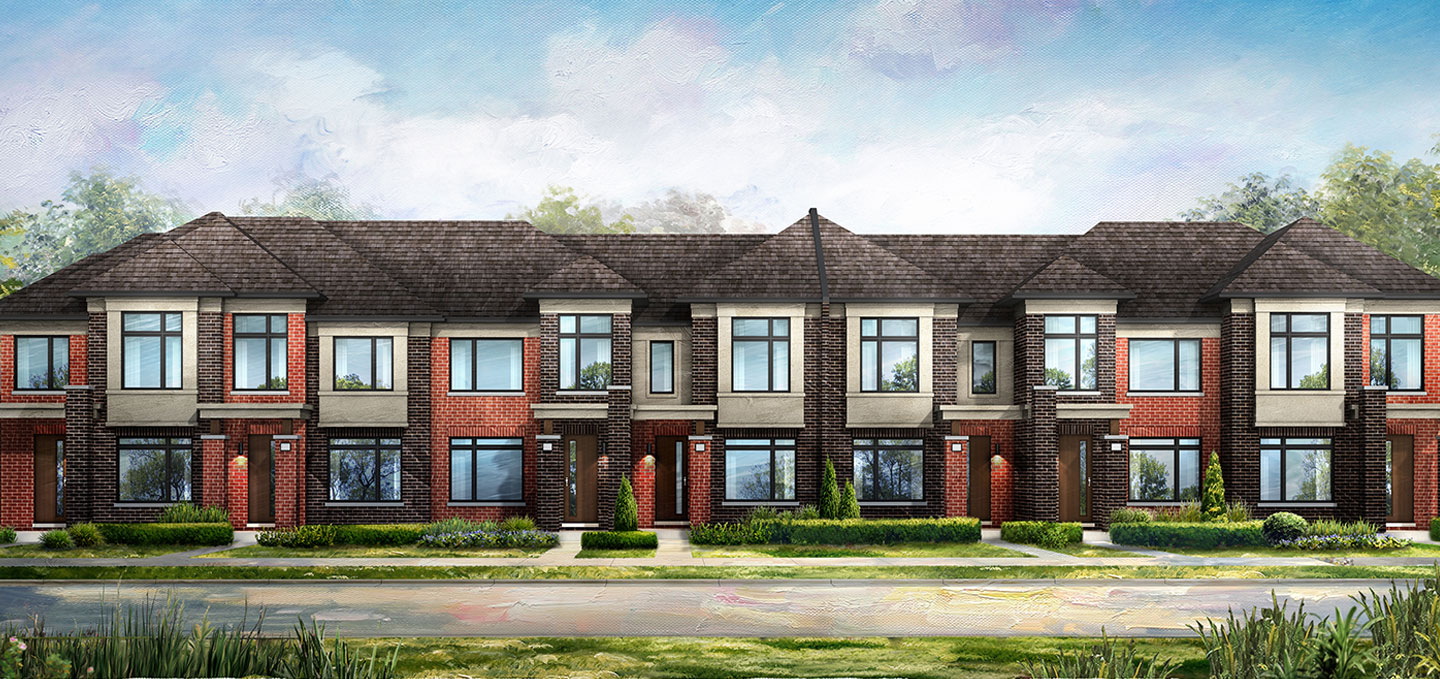 Rosehaven is extremely excited for the current release at Mount Pleasant in Brampton! Located at Mississauga Road and Buick Boulevard, there are a variety of beautiful new townhomes for sale at this community. You don't want to miss your chance to own a home here.
At Mount Pleasant, there are four different types of townhomes and each model is perfect for different reasons. Here are the options you will find at Mount Pleasant:
1) Traditional Freehold Townhomes
Traditional Towns are a great place for your growing family because of the spacious rooms with our townhomes ranging from 1,540 to 1,903 square feet. These homes offer a more traditional exterior look while also maintaining an efficient use of space within each model. Currently, the selection consists of three different options, each one offering spacious floorplans, 3-bedroom suites and an eat-in-kitchen for your convenience. Families will have room to entertain, spend time together and relax in a Traditional Town at Mount Pleasant.
Contemporary Townhaus Collection
2) Live/Work Towns
These contemporary freehold townhomes are an ideal place for young and working professionals, as well as families who are searching for a new home. The 3-storey open concept homes include 3 bedrooms and 3 bathrooms in a spacious layout with access to an outdoor terrace, 1-2 car garages and an office area. The space is flexible, with ample room for entertaining and hosting gatherings.
3) Courtyard Towns
The contemporary freehold townhomes are family-friendly oriented homes, featuring 3-bedroom floorplans. These towns provide a spacious kitchen and breakfast area giving you the comfort you need to enjoy a delicious meal throughout the day. The yard is fenced ensuring your living space is both private, safe and ideal for children or pets. Outside, you can enjoy the exquisite courtyard scenery or relax in the sunroom on the ground floor. A significant advantage to living in a Courtyard Town is the breezeway that connects the garage to your home, making it easier to travel in and out throughout the colder months.
4) Terrace Towns
Rosehaven offers the Terrace Towns as the perfect place for entertainment. These models range in size from 1,653 to 2,286 square feet, boasting 3 bedroom floorplans for comfortable living. The ground floor contains a den and ensuite for guest privacy and a spacious foyer that has access to a covered porch. Utilize the main floor great room for hosting guests or head upstairs to relax on the outdoor terrace. Within the master bedroom, find a beautiful walk-in closet and grand balcony that overlooks the surrounding area.
Living in Brampton
Brampton is known as Flower City, which is why Mount Pleasant perfectly blends natural beauty with modern living. Mount Pleasant is located near major highway routes like the 407, 410 and 401, allowing for easy and quick commuting. Here in Brampton, you can find all the modern amenities you will need including shops, restaurants, parks, schools and so much more.