An Affinity for Better Living in Aldershot
January 27, 2020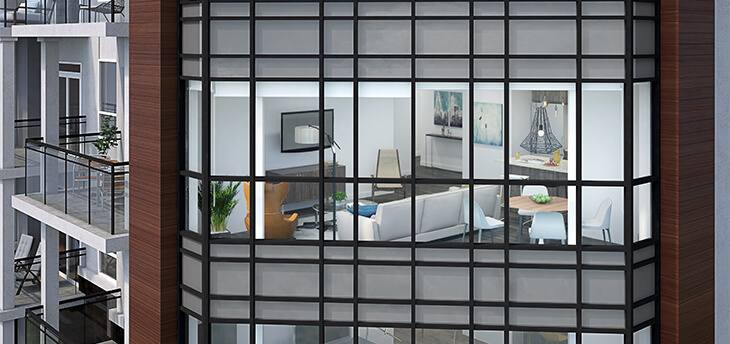 Construction is Almost Complete at Affinity Condominiums in Aldershot
Find infinite possibilities at Rosehaven Homes' exciting project in Aldershot - Affinity Condominiums. Located at Filmandale Road and Plains Road East in Burlington's blossoming community of Aldershot, Affinity Condominiums is an inspired venture that brings together the natural beauty of the surrounding area with the pulse of the city.
Effortlessly elegant, the two six-storey towers use glass accents and warm features to create an exterior that is as welcoming and inviting as it is architecturally appealing, striking a fine balance between charm and sophistication. Affinity's refined interiors can turn any day or activity into an experience. But spacious bedrooms, large windows and open, brightly lit living spaces are not the only features to look forward to when you live at Affinity Condominiums.
Amenities at Affinity
Not only is Affinity Condominiums a quick move-in opportunity, with occupancy starting in spring 2020, but all of the state-of-the-art amenities available to Affinity's residents are completed and available for use come move-in day. The luxurious lounge and rooftop terrace are perfect for entertaining and meeting your new neighbours. The contemporary yoga studio and well-equipped fitness centre will help stay focused on your health during the process of moving and eliminate the cost of a gym membership. The gorgeous lobby and business centre are fully completed, meaning you don't have to worry about living in a construction zone for the first few months in your new home, and the private party room is perfect for your housewarming party.
Amenities in Aldershot
With everything to offer at Affinity Condominiums, it seems too good be true that the surrounding neighbourhood is full of entertaining and enjoyable amenities for all. The Joseph Brant Museum and the Art Gallery of Burlington are there for the art and culture lover; the Aldershot Community Pool and Burlington Golf and Country Club are available for anyone looking to be active; and the 2,700-acre Royal Botanical Gardens, as well as Burlington's many parks and trails, are perfect for those who seek the outdoors. A wide range of boutiques, shops, restaurants, bakeries and cafés give the city a bespoke appeal that feels equally personal and inclusive. In addition, Affinity is only minutes from the Aldershot GO Station, and with quick highway access it is a popular choice among empty-nesters, young professionals and everyone in between.
One of the buildings at Affinity Condominiums is completely sold out, but luckily there is still a limited selection of units remaining that are available for purchase, meaning the elevated lifestyle at Affinity Condominiums could be yours.
Click here to learn more about everything that Affinity Condos has to offer.
Keep up with everything going on here at Rosehaven Homes by following us on Instagram, Twitter and Facebook